The nightlife in Udon Thani is special in its own way. It can be a great visit as long as you know how to enjoy it. Udon Thani is one of the well-known cities in the north of Thailand. The province it is in is called Issan. And although some of you may not be familiar with the nightlife in Udon Thani hopefully after reading this you will be. I will give you guys an idea of the vibe of the place so you know what to expect and what NOT to expect.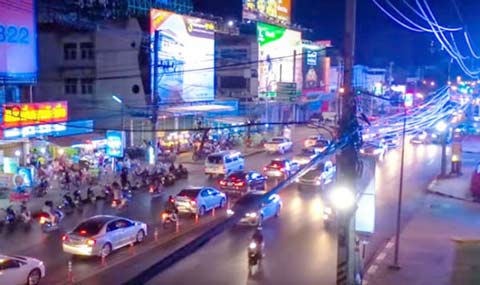 One of the amazing things about this place is the laid back lifestyle. It is perfect if you want a place to relax yet also have the option to enjoy yourself with lovely Thai bar girls or "normal" girls. Udon Thani has a small yet capable nightlife scene. Here is a quick rundown of the things Udon Thani has to offer:
2 Beer Bar areas (Nutty Park and the Day and Night complex)
A few reputed nightclubs and bars
Massage shops, and a couple Soapy massage parlours.
The Udon Thani Night Market
Central Plaza (a nice modern shopping mall) Also considered the city center. See Picture below.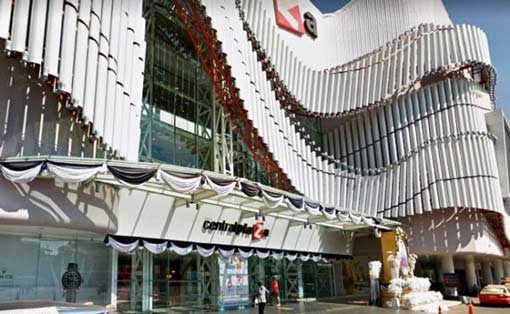 This is the Central Plaza mall. It is good to know this because most of the nightlife hot spots in Udon Thani (including the girly bars) are around this area. try to book a hotel around this mall. It's great for chilling out in the hot afternoons, or to set up dates with women you meet online. This is like the central hub of the city.
Nightlife in Udon Thani Feels Authentic
The great thing about Udon Thani is that it feels a bit more authentic than the other popular cities in Thailand. And because it is far from Bangkok, Many tourists don't bother coming here. And this is exactly why you can have an amazing time in Udon Thani. It is still not "spoiled" like some of the other popular tourist visited cities in Thailand. There is always an abundance of girls here. The bar girl hostesses are OK (not the best in Thailand), but the normal women can be very hot. And it is no surprise that many expats move here with their girlfriend.
Generally speaking, the people and women in Udon Thani are friendly towards farangs. I think it is one of the nicest places in Thailand to live in, plus the nightlife is enough to keep most guys satisfied. One of the best things to do is to set up dates with women online in Udon Thani. It will also give you a better idea of the place as they can be your date and check out places together. It can really be useful. Check out my online dating guide in Thailand for more info.
Have The Right Expectation about Udon Thani
But Udon Thani is misunderstood and some guys might not have had the best nightlife experience here. Do you want to know why? Because they come with the expectation that Udon Than is like Pattaya, or Patong – with entertainment all over the place and in your face.
It is not like this at all. So don't be like these guys and understand now that the nightlife in Udon Thani is special in its own way. It is also probably the cheapest place in the Thailand for bar fines. Here are the reasons why I like Udon Thani:
Laid back and relaxed vibe
Very safe
Lower prices for drinks, food, bar fines, partying, hotels, shopping
People seem friendlier than other touristy cities
Weather is less hot than Bangkok, Pattaya, Patong
Everything is close together, can even walk to most nightlife hot spots
Now that you have an idea Udon Thani, here are the things that you can enjoy:
Beer Bars in Udon Thani
In Udon Thani there are two main beer bar areas and the great thing is that they are very close to each other. It is less than a 10 minute walk distance to get to either place. If you are familiar beer bars then you know what to expect. These bars are great to kick off your nightlife fun in Udon thani and enjoy a nice cold beer or two. There will be Thai girl hostesses available to hang out with you if you want, and the general vibe is friendly and relaxing. You will also see some older expats chilling here as many of them have retired here. You can watch sports on T.V. or play pool. Prices are very reasonable at both places. Here are the two beer bar complexes in Udon Thani:
Day & Night
Day & Night is probably the most popular beer bar complex in Udon Thani. It is like a small red light area with bars both inside the complex and a few scattered around the street it is on – Samphat Thamit Alley. This street is considered Udon Thani's main tourist bar street possibly the most popular nightlife area for foreign men.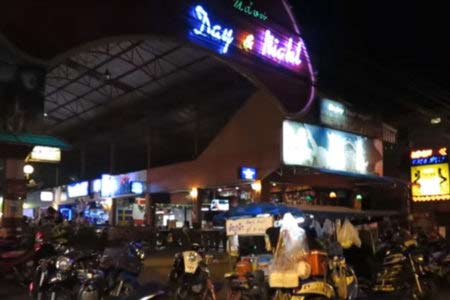 And because it is a tourist area you will sometimes also see some freelancers around. The complex itself is not that small and has many beer bars inside. See for yourself which ones you like.
Prices
Generally the scene starts to pick up as the evening starts, so after 6 PM is when you will see more bar hostesses. Another thing to remember is that the most the bars will close around 1 AM. Generally the Udon Thani nightlife slows down after this time.
Nutty Park
Nutty park is the other beer bar hot spot located just a bit south of Day & Night. As you can see in the picture the entrance is not that big. You just walk in that small alley and you will see beer bars lined up and around the back area. Nutty park also starts to pick up after 6 PM and starts to wind down after midnight. By the way, if you want to find a ladyboy in Hua Hin you can usually see some freelancers in the evening — in this area and at the entrance of the street that Day & Night is on.
Prices
Drinks: 60-100 Baht for most drinks
Lady Drinks: 120-140 Baht
Bar Fine: 300 Baht
Nightclubs in Udon Thani
Udon Thani has a few well-known nightclubs that you should be aware of. And the great thing is that they are not that far from another. If you don't like the vibe of one of them you can always go check out another. Just remember that all the clubs in Udon Thani must close at 2 AM.
The Pheonix
The Pheonix is one the newest nightclubs in Udon Thani. It is also one of the hippest at the crowd is slightly younger than the other clubs. Many cute girls here, and the vibe is fun and exciting. Music is of great quality.
Yellow Bird
The Yellow Bird is a Thai style nightclub in Udon Thani. It has seating and a live music. It gets busy and has a nice vibe to it. The reason I put this one first is because it usually has a lot of hot local Thai girls inside. It is located next to the Chaoren Hotel just south of Central Plaza. You will only see a handful of foreigners here, but it worth checking out. It is also great to take a local girl for a date there. It is one of the smaller clubs in Udon Thani but the quality is good.
Tawan Daeng
It is called a Tawan Daeng Pub but it is really a Thai style nightclub with a live band. It is very popular among Thais but you will also see foreigners here – more than the other nightclubs. The set up has tables and seating where locals sit in groups ordering bottles of Whiskey. Many cute local women here.
If you want more options you can also check these clubs:
Rythm: Located in Napalai hotel. Is a bit farther from the other clubs above. You could easily go there by getting a tuk-tuk. Also has a younger crowd.
20UP: One of the newer clubs, it also has a younger crowd. It is a Thai style venue with life music and sexy Thai women.
Also keep in mind that there are a couple more small bars around the Nutty Park area that can be considered Thai nightclubs. Just check out the scene for yourself and see what you like.
Massages in Udon Thani
As we proceed with this Udon Thani nightlife guide we come to the massage shops and parlors. You have a couple options for soapy massage and for sensual  style. Check out the options below.
Your best bet for these relaxing types of massages is around the touristy Nutty park area. You will find small massage clinics with women working in them. Whether or not they do specialty massages is up to them.
Remember that Udon Thani is not the same as Pattaya or Patong. Things are not in your face here, so it will be up to the masseuse what other special massages she knows. That being said, it is very possible to get these services from them. Just use your own judgement. Usually the women that seem very interested in giving a great massage will let you know. Check out below for the prices to expect at these massage shops.
Prices
Traditional Thai Massage: 200 Baht
Oil Massage: 300 Baht
Other Specialty Massages: 500-1000 Baht
Soapy Massage
Udon thani does not have a big soapy massage scene. It has one typical soapy massage parlor (Oscar) and another private style massage parlor (inside Grand Naga Hotel). They are both worth checking and seeing what you can find.
Oscar
Oscar is your typical Thai fishbowl style soapy massage parlor in Udon Thani. If that is what you are looking for then this is the place for you. The best thing to do is walk in, greet the papasan, and check the massage specialists in the fishbowl. Getting a drink is also a good idea as you can relax and see what you really like. There will be around 20 massage ladies to choose from. A few will be "special" side line ladies and the rest will the regular ladies.
Prices
Regular women: 1600 Baht
Sideline women: 1900 Baht
Grand Naga Hotel
This massage is like a mix of a soapy and a KTV. You can see the lineup of masseuse women and get to spend time with them privately in a room to drink or to hang out. She will give you a massage and you can come to an agreement on any other massage services you want. This all has to be negotiated with you and the girl.
Prices
Traditional Thai Massage: 380 Baht
Oil Massage: 650 Baht
Other Specialty Massages: 500-1000 Baht
Women in Udon Thani
I know many of you guys like to meet freelancers. But let me tell you now that the scene is not like Pattaya beach road. You will not see them all over. You really have 2 options:
A) Find them online using the dating sites (check out my guide). This is better since most the women feel more comfortable over the phone.
B) Find them around the foreign beer bar areas, especially at the intersection of Samphan Thamit Alley and Prajak Sillapakom streets. This is close to the Nutty Park area. It is also the entrance of the street that leads to the Day & Night complex.
Conclusion on the Udon Thani Nightlife
I think now you have a great idea what to expect here. As I was saying before, as long as you know what to expect here I think it can be a great place. I know guys that prefer to be here over Bangkok and Pattaya. That should tell you something. But they like it for the reasons I mentioned above. Udon Thani is amazing for guys that want a peaceful and relaxing vibe, at very affordable prices. If this is the type of experience you want then you should do just fine here. If you are expecting this place to be like Pattaya or Patong then you might be disappointed. It is really up you what you want. But either way, it is amazing for a few days side trip to experience something new. And that is the great thing about the Udon Thani nightlife.