Using Thai Cupid is of one of the easiest (and smartest ways) to meet Thai women for a relationship or to date for casual fun in Thailand. You can get an idea of what I do to meet even more girls in Thailand.
I simply use the Thai Cupid app.
There are so many Thai girls online in Thailand now and it is really good to use the online technology to your advantage. And the good thing is that many Thai girls like foreign guys.
They want to meet guys to date or just for fun. Especially if you are traveling alone – you will want to meet girls very easily while here.
And a good thing to do is to start talking to them even before you come here. This way you can get an idea of how they are like, and build your contacts. You can easily do this by signing up for free and start checking it out: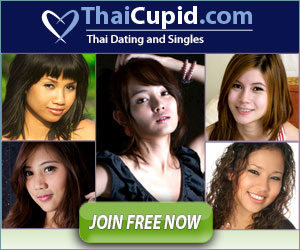 I get some inquiries where guys ask me is Thai cupid genuine. Yes it is. Many guys including myself can attest to that. It's actually one of the preferred ways to have access to more women now.
Here are some of my personal pictures of the nice Thai girls I met and dated from online.
Some girls I had a relationship with, and others it was mostly just to have fun since I didn't really want anything serious at that time.
The problem is that Thai girls are a bit shy in public. If you want to pick them up in public they may not always give you attention. Even if you are nice and handsome they are still shy around other Thai people when it comes to talking to foreign guys.
The good news is that they are not that shy online. You can easily review their profiles – chat with them and get to know them. Once you know them you can set up dates very easily in Thailand.You could even have a relationship if you want. It really depends on you and who you want to meet.
Read the brief comparison of two of the best dating apps in Thailand for more helpful info.
Many Types of Girls on Thai Cupid
Remember, there are all types of girls online, from freelancers, to girls looking for foreigner husbands. This is why most guys sign up with Thai Cupid because it give you access to more girls in Thailand. It is also extremely useful when you visit other cities, that are not as busy as Bangkok, or Pattaya.
You will always have girls available to browse and chat to from the comfort of your phone.
The Benefits of Online
You have access to girls from your phone, even in remote and less populated cities.
Cheaper than always going to bars or red light districts.
More privacy than always finding them outside.
Some girls are more comfortable online, they won't always be in the streets talking to foreigners.
Thai Cupid is one of the most popular Thai dating sites. Here are the steps to start using it.
Step 1: Create Account on Thai Cupid
First sign up with Thai cupid and create an account. You can use the Thai Cupid free trial, but if you want to text unlimited to everyone you need to upgrade your account. It is highly recommended because you will start to talk to many girls, and you will need the upgraded account. Once you become familiar with this Thai Cupid Review, make sure you get online and start chatting with the Thai girls.
Step 2: Pictures
You need to look interesting to the girls.
So put up about 3-4 pictures of yourself. Make sure you look your best. Also make sure that the pictures are different and have different places. Examples are: selfie, at a park, at a beach, at a restaurant, night club.
If you want more privacy put a couple of pics with sunglasses.
Take a look at the girls photos. Notice they always try to put interesting pics up (to make guys like them).
Try and copy that and have good pictures too! It helps a lot. The guys with good interesting pictures get a lot of interest. If your pictures are good the girls will message you, you don't even need to try so hard to message them.
Step 3: Profile Description
The best thing to do is to write a bit about yourself.
Remember that short and sweet is better than too much. The first step is to look interesting to the Thai girls. You can always talk about yourself more after you start chatting. You can write a bit on what you are looking for. If you want something serious then say it. If you want to just "meet and see where it goes from there" you can say that too.
Finally, review your profile and make sure you don't have any small mistakes or pictures you don't like to show. Remember, the better the profile the better attention you will get. So after reading this Thai Cupid review you should have a solid idea of how to meet more girls in Thailand. Read:  Advice on Having a Girlfriend
How This Thai Cupid Review Can Help You
One of the most important things to remember is to have access to as much girls as possible while in Thailand. And this is myself and many other guys have dating profiles even though there are girls everywhere. The best practice is to chat with as many girls as possible, and then stay in contact with the best ones. Set up dates with the girls you want and get to know them.
You will soon find out that your list of girls contacts will start to grow more and more.