The sheer number of bars in Pattaya is one of the first things that everyone notices. As soon as you start walking in the streets you will be amazed at just how many bars can be crammed into a city of this size.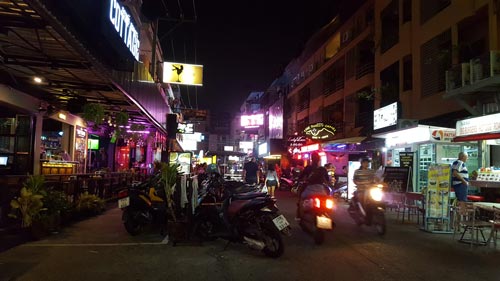 Usually one of the first things that many guys do after checking in to their girl friendly hotel (great list here) is to take a stroll and visit one of the many bars for a nice cold beer – and yes it can be exciting (and relaxing).  The reason is because there are so many of them, and you never really know what to expect, or what kind of experience you will have. The beer bars are also a great inexpensive alternative to the go go bars.
Eventually, you will discover your own favorites. You see, every bar has its own type of vibe, location, girls, different sports on T.V., and even different types of music. And the great thing is that the drinks at these types of bars in Pattaya are generally inexpensive. You can easily try them out and get a vast amount of interesting experiences.
These bars in Pattaya are also referred to as girly bars, or beer bars, and they are probably the best places to chill out have a cold beer and to take in the sights and sounds. I enjoy them because of these reasons:
Drinks are cheap
Can people watch – See the sights and sounds
Listen to music (sometimes live bands)
Play Pool
Talk to other foreigners
And last but not least, chill out of with some cute Thai bar girls, and possibly take them out.
As you can see, they do offer great entertainment value, and are a staple in the Pattaya bar scene.
What Exactly Are These Beer Bars in Pattaya?
This part is for the new guys that don't have experience in Thailand and want to know more about these girly bars.
These bars are just like normal bars, except they have Thai bar girl hostesses working in them. Their job is to make the customers feel welcome, and generally be at your service. You can order drinks from them as well. Also keep in mind, these bars are created with the single male traveler in mind. This means that they cater to guys that want to enjoy drinks and have the option to chill out with cute girls, and of course have the opportunity to get closer with them.
Sometimes, as you are walking, the girls will already start waving at you and try to get you to come to their bar. In any case, you can take a seat at any bar you wish. You will soon find that the waitress or one of the girls will come to take your drink order. Just order a drink and relax. Of course, it is best to have a good attitude and try and be friendly with the waitress and the rest of the girls. Having a light friendly attitude with a genuine smile always works great.
Sooner or later you will find that one of the girls is showing interest in you, and will try to chat you up. If you like her too and want to keep the interaction going then it is wise to buy her a lady drink. These drinks cost a bit more and are somewhat like "tip" for the girl — like a nice gesture. So of course the girl will appreciate it and usually she will make sure that you feel appreciated too.
Finally, there is the option to bar fine. This is a set amount that you can pay the bar for the girl to be able to leave the bar and spend some more private time together. This can either be just hanging out , bar hopping, clubbing, or even back in your guest friendly hotel room in Pattaya. It simply depends on what you and her agree too.
Most Popular Beer Bar Areas in Pattaya
To be very honest there is not just one area that is the best. The reason is because people have different preferences, Some guys think Walking Street is best because its more "exciting", while others think Soi Buakhoa is best because it is a bit less touristy and probably has the cheapest drink prices. But in any case, I will let you know of the popular places and what to expect, then you can visit it yourself and see if you think it is the best.
Soi 7 & Soi 8
These two streets are right next to each other and have probably the most concentration of beer bars in all of Pattaya. They are also popular because the location is right next to the beach, so it gets plenty of visits from tourists. Soi 7 has a few more bars than Soi 8 and the girly bars here are somewhat the "bread and butter" of the Pattaya beer bar scene.
Starting from the evening (around 6 PM) is when most of the girls start working, and the street becomes alive. The party usually lasts until around 3AM. But Keep in mind that you can still visit in the afternoon and enjoy the bars, it will just be more relaxing and not as much girls working.
Soi Buakhao
A bit farther from the beach, Soi Buakhoa is a very popular street for girly bars. With highest concentration being around the middle (between Central Road and South Pattaya Road). Once you get near the LK Metro area you are pretty much right in the middle of the action.
By the way, Soi LK Metro also has beer bars too. It is like a side street off Soi Buakhoa. You will also find beer bar areas in the side streets between Pattaya 2nd Road and Soi Buakhoa (mostly in the middle, right around the LK Metro Area)
The whole scene is generally more relaxing than Walking Street, and the waitresses and girls are not as aggressive as some of the other touristy areas. It is very popular among the expat crowd, so this should give you and idea of the vibe. And as said earlier, it is not expensive to drink here compared to Walking Street. An over-all good value location.
Walking Street
In the traditional sense Walking Street is more famous for its go go bars and nightclubs, but it has a few beer bars scattered on it. But the best areas to know are the two huge beer bar complexes called the Pattaya Beer Garden & Simon Walking Street.
Each of these complexes has about 20 "mini" girly bars inside that have about 7-15 girls working in each of them on any given night. You will also notice that some of the bars have girls pole dancing trying to create excitement and ensure customers are having a great time.
Soi 6
As I have mentioned previously, Soi 6 could probably be the best value in all of Pattaya.  The girly bars here have one great advantage: they are also short-time bars. Almost the entire street is filled with bars that allow you to spend some private time with the girl of your choice in one of the private rooms on the premises. Drinks are also reasonably priced.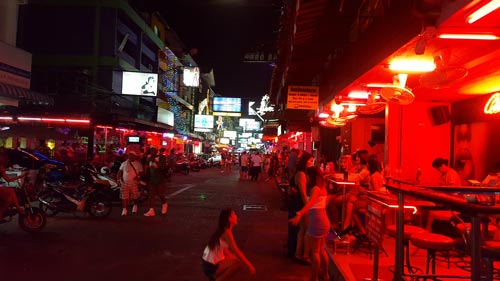 Soi 6 is also great for the fact that it is open starting from the afternoon, so you it gives you another good option for daytime action, It gets busy starting from after 5 PM.
Another important point is that the average age of girls is a bit younger compared to the other beer bar areas, and this is why it is well reputed among male travelers are one of the best spots to be in the the city of Pattaya. There really is no other place like Soi 6 in Pattaya, maybe even all of Thailand.
Honorable Mentions: Jomtien & Naklua
There are more girly bars in the North and South End of Pattaya. Jomtien is located in the South of Pattaya and has its own beer bar scenes. Just know that it is nowhere near the size of Pattaya and only has a few bars worth going to. It also doesn't have the same quality and quantity of girls as Pattaya does. In any case it is worth mentioning here so you can check it out for yourself.
On the north end is Naklua, which is known is known to have more of a relaxing atmosphere and less tourists. It also has girly bars that can be visited if you happen to be in that area.