This one should be interesting. Thailand Vs Cambodia. Two countries with deep cultural roots and history. Both are heavily visited every year. From Backpackers, couples, and of course single male travelers looking to relax and enjoy their holiday. There are a few similarities between Thailand and Cambodia I have been asked this question a lot: "Should i go to Thailand or Cambodia?"

It is no secret that men come to both places to enjoy the lovely women of both countries. Although Thailand is more popular and developed, Cambodia has gained ground the past decade. Cambodia used to be the place that was more "secret" for many men. Due to fewer crowds and a more intimate and laid back style, it was only visited by certain type of guys. In this Thailand Vs. Cambodia guide we will take a closer in-depth look at both countries. Lets look at the pros and cons and see which one really wins with the most points.
Prices
Is Cambodia or Thailand Cheaper? This is a question many want to know. Cambodia is cheaper than Thailand. You will find that your money goes farther there than Thailand. Things like food, drinks, hotels, taxi, and partying with the women are cheaper.
But keep in mind, this all comes at a price. Thailand is much more developed, especially in the major cities. And although Cambodia has got better as of late, it still doesn't come close to having Thailand's infrastructure and development. Thailand can be cheap too, once you go into the less popular cities. If you know what you are doing, you can still plan a cheap holiday in Thailand and it can be very affordable. But still, this round goes to Cambodia.
The People
Both countries have a similar culture. They are both quite friendly and are not violent towards foreigners. But one thing that has been obvious the past few years is a slight undertone of resentment towards foreigners in Thailand. This is not a big deal, bit simply put: Thailand used to be much more friendly before than it is now. Cambodia now sometimes reminds be of the way Thailand used to be.
The people of Cambodia are genuinely friendly. The locals are truly kind and accepting of foreigners. This could be due to the fact that they have had a rough political history of violence and just want peace. Whatever the reason is, it does seem to be a bit more friendly than Thailand lately. Thailand is also friendly, especially in the remote areas. Thailand is also quite peaceful. This round is a tie.
The Women
Both countries have an abundance of lovely ladies to keep you company during your holiday. Both can also have very good-looking women. They can have similar features, but from my experience some Thai women tend to be more light-skinned than the Cambodian women. The physiques of the women are also similar. One thing I have noticed is that some Cambodian women can have slightly better curves to their bodies. Thai's are sometimes very slender and tall, with less curves. This is not the majority, but something that I have noticed more in Cambodian women.
Thai women are more open-minded when it comes to meeting foreigners, and in my opinion they are more fun to hang out with. Thai women will know how to please you and make you feel hppy. Cambodian women are a bit more conservative. Maybe it is because they are more shy, or self reserved due to the culture. Whatever the case may be, the women of Thailand seems to have a slight advantage here and is the winner of this category.
Cambodia Vs Thailand Nightlife
Thailand has a more developed nightlife scene compared to Cambodia. The nightlife in Thailand is one of the best in the world. Cambodia does have a small yet capable nightlife vibe. You will find bars, beer bars, discos in the cities like Phnom Penh, Siem Reap and Sihanoukville. One advantage of Cambodia nightlife is that it feels a bit more authentic compared to Thailand these days. Remember I said that Cambodia feels like what Thailand used to be. It still holds true.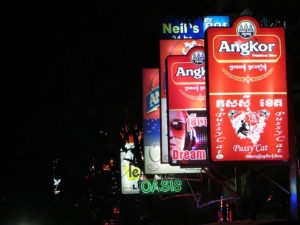 The nightlife is laid back and relaxing in Cambodia. It doesn't even come close to the vibe of Bangkok, Pattaya and Patong. A similar comparison would be with Chiang Mai, Thailand's northern city. Bangkok, Phuket, and Pattaya have some great night clubs and gogo bars. Some of the clubs in Bangkok are world-renowned. Everything is on a smaller scale in Cambodia. However, it does give you a decent nightlife.
You will especially love it if you are the type of person that prefers a slower pace – laid back vibe. This is why some people keep coming back to Cambodia. It is also one the reasons why I love to do Cambodia as a side trip to relax and unwind. Another point is that Cambodia is developing faster than Thailand. The nightlife has grown considerably in the last 10-20 years. However, Cambodia can't compete with the powerhouse Thailand in this category and is the winner.
Ease of Getting Around (Transportation)
Getting around in Thailand is not that hard, especially in the well-known cities. In Bangkok there are taxis everywhere and they are relatively cheap. You also have UBER and Grab service available. There is also the Skytrain and MRT Subway lines. Even in the less populated cities it is easy to get a motorbike taxi, or tuk tuk to get you around for good prices. As an example, Thailand also has excellent bus service from Suvarnabhumi Airport going to cities like Pattaya.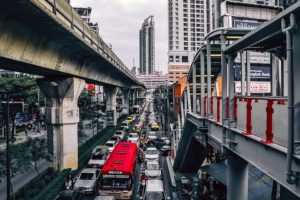 One of the drawbacks to the Taxis in Bangkok is that they sometimes refuse to turn on the meter or take you to your destination. This does get annoying at times, but it is not that big of a deal – there is always another driver that will gladly give you a ride. In Pattaya they also have the Baht-Bus. It is a pick up truck that picks up passengers going along the same route for 10 Baht.
In Cambodia getting around is not that difficult. They have taxis, and tuk tuks (pictured above) to get you places for very cheap. Cambodia has very good tuk tuk service for excellent prices. The drivers are also a bit more friendly compared to the Thais. This one is very close, especially in the less populated cities. Both countries have similar service. In my opinion Thailand still beats Cambodia in this regard due to the better transit systems in Bangkok and is the winner here.
Read: Solo Travel in Thailand
Sight Seeing & Temples
We continue this Thailand vs Cambodia battle in the sight-seeing category. Both countries are amazing when it comes to nature and cultural sight seeing. here is the Grand Palace in Thailand:
Bangkok has beautiful temples in Bangkok and cities like Chiang Mai. The mountainous regions are really beautiful. The beaches in the south around the Phuket area are simply some of the best in the world. Lets not forget the islands too. In this segment Thailand is very strong – but so is Cambodia. Cambodia has some of the best temples and historic sites you will ever see. Angkor Wat is one of kind place that you will never forget: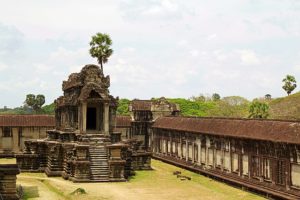 You really feel the history and energy when you go there. Cambodia also has some beautiful beaches and islands. I really want Cambodia to win this round. It does have amazing things to see, and this is one the stronger points of that country. But to be honest so does Thailand. We have to give Thailand a point here also. This is a tie.
Hotels & Accommodation
As we come closer to finishing this Thailand vs Cambodia match-up it is looking like Thailand is the winner. So lets see if Cambodia can pull closer. Cambodia has very affordable hotels. It also has a lot of hotels and accommodation options to choose from – especially in the popular tourist cities. One of the strong points about Cambodia is the low prices. But lately as it is getting more developed the prices aren't as low as they used to be. It is still cheap though.
But just keep in mind, Cambodia used to offer much more value in this regard. Thailand is one of the best places to find great hotels for amazing prices. One thing that stands out about Thailand is the standard is better – for what you pay. Due to popularity of Thailand there have been so many hotels built to keep up with demand. This is great for the consumer. As competition increases hotels lower there prices. This has caused amazing prices for decent hotels. Thailand is really powerful in this category, and it is better than Cambodia in this regard. Another winner for Thailand.
Thailand Vs Cambodia Conclusion
Let me start off by saying that Cambodia is a good place to visit. In my opinion it is amazing for a side trip to check out the nice temples and to enjoy the laid back lifestyle. Due to its affordability it is also suitable for long-term stays (backpackers, expats, digital nomads). But the standard is still not the same as Thailand yet. Cambodia's strong points are:
Affordability
Sight-seeing
Abundance of open-minded women
Feels more "authentic"
If you noticed in this Thailand vs Cambodia comparison, Cambodia did fight good. It tried to keep up with Thailand. It even beat Thailand in some category. But to be fair, Thailand is still the winner in this comparison. The conclusion is that both countries are excellent to visit, but Thailand has more over-all advantages than Cambodia. Here is the total score: Thailand 6 Cambodia 2   Read More: