The Chiang Mai nightlife is well-balanced and has everything to keep most travelers intrigued. This city is a place where traditional culture meets a vibrant nightlife scene.
Chiang mai has two key selling points.
One is the beautiful mountainous scenery and historic Buddhist Temples. And the other is the bustling night scenes which attracts tourists from all over the world. Especially male single travelers who come to Chiang Mai wanting to relax and have some amazing times with the bar girls.
Yes, the sex tourism in Chiang Mai is still a big selling point for many of the male foreigners.
Chaing Mai is the major city of northern Thailand, and due to its nightlife it can hold its own against the other major cities like Bangkok, Pattaya, and Patong.
By the way, if you are the type of guy that prefers a more relaxed scenery then you might also like Udon Thani. Udon is similar to Chiang Mai and is in the north-east part of Thailand but it is less touristy and has a smaller nightlife scene.
The Chiang Mai nightlife is popular among male travelers and is what also brings Thai girls here as they can have a source of income working as waitresses or hostesses in the foreign oriented girlie bars.
Also, there are many nice Thai girls in Chiang Mai who are online and open to meet foreigners for casual dating or serious relationships.
Prostitition and Sex in Chiang Mai is no secret among male travelers, but the city has plenty more to offer other than its sex industry.
Check out my must read guide on online girls in Thailand. It is especially useful in cities like Chiang Mai (that are not as populated as Bangkok) so you always have access to meet even more girls. There are girls online in every city in Thailand. Of course you will also find freelancers as well.
If you are a foreigner with some good skills then you will have no problem having an amazing time almost anywhere you go in Thailand.
Chiang Mai's red light areas are not limited to one place. It is sort of like Bangkok in this sense. There are various hot spots that one needs to know such as for Massage Parlours, Go Go Bars, Girlie Bars.
Check out the map at the end to get a better idea of the places.
Also keep in mind that the Chiang Mai nightlife is very popular for backpackers, couples, and a wide variety of tourists. Because of this it is not just known for its sex industry and its red light district. Things will not always be directly in your face like Pattaya as an example.
So, in this guide you will know exactly where these hot-spots are in Chiang Mai. You will also get a general idea of the city and where to find Thai bar girls.
Chiang Mai Nightlife Beer Bars
As with Pattaya and Patong, Chiang Mai has a well established beer bar scene in Thailand, but on a smaller scale.
Some guys call them girlie bars because they have girl hostesses in them. You can simply walk in relax and have a great beer and there will be Thai girl hostesses willing to come and chill out with you.
The girls job is to make the customers feel welcome and to keep them company or play pool with them. These girl's will be available to leave the beer bar and hang out with you outside the bar as long as you pay the bar fine and if she agrees to.
These beer bars in Chiang Mai are located on a well-known street called Loi Khro Road which has an established beer bar scene and known to be one of Chiang Mai's red light districts. But shouldn't be called that since you will find all types of tourists in the entertainment hot-spots.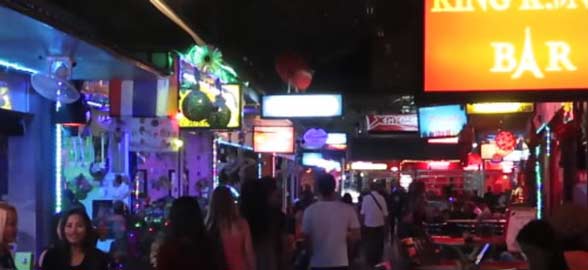 Along this road you can discover many bars with Thai girls hostesses working in them and there will be more bars the further west you walk on the road. There are also freelancers close to this area. The highest concentration of these beer bars will be closer to the river bridge crossing intersection by Kothasarn Road.
Prices At The Beer Bars:
Chiang Mai Go Go Bars
Of course if you are in Chiang Mai and wish to visit a GoGo bar you have a few options. You will not find many in the Chiang Mai nightlife areas, but it still has a few that are worth to check out and you can include it in your fun. Here they are:
Foxy Lady
This is the best Go Go bar in Chiang Mai and the type you would see in places like Bangkok and Pattaya, but with less women. So if that is what you are expecting when you are in Chiang Mai then Foxy Lady Go Go bar is what you should be checking out. It is a modern venue with sexy young Thai women.
Prices at Foxy Lady Go Go Bar:
Drinks: 100-120 baht beer.
Lady drinks: 140 baht.
Bar fine: 600 baht.
Spotlight
Spotlight Go Go bar in Chiang Mai is another Go Go bar to check out. It is not as modern as Foxy Lady and has a more chilled out vibe. Still worth to check out and see what you can find.
Prices at Spotlight Go Go Bar:
Drinks: 100-120 baht for beer.
Lady drinks: 135 baht.
Bar fine: 700 baht.
Sugar Beat (
is closed now

)

Sugar Beat in Chiang Mai is more of a high-end coyote night club. It is not a traditional Go Go bar but I will include it in this category because the girls here are super hot and are known to be models. The venue looks nice inside with a modern touch.There is a Thai band playing live music and you can relax in the VIP style couches and chill out with one of the coyote girls as long as you buy drinks and pay a small 200 baht free every half hour. It is a good option as you can listen to the live band and hand out with some hot Thai girls.
Chiang Mai Nightclubs
The Chiang mai nightlife would not be complete without some night clubs thrown into the mix. Below I have listed the night clubs in Chiang Mai where you can party with local Thai girls (normal girls and freelancers) or even other foreigners.
They are a mix of foreigners and Thais and also some clubs that are more Thai oriented. Of course foreigners are welcome in these clubs but just know that you will probably see much more locals than foreigners. I have noted which clubs are more Thai oriented below.
Spicy Club
Spicy club in Chiang Mai sort of like a Thai after hours club as it is open well into the morning hours. It is usually open until 6-7 AM. The club itself is not that big and has many foreigners that come to party in it due to the many Thai girls that come to this place as a final party hot spot.
Zoe in Yellow
Zoe in Yellow is the most popular foreigner oriented night club in Chiang Mai. It has an outdoor style bar area with a dance floor and a typical indoor club room across it. Most of the people party together at the outdoor patio style bar and dance floor though. This club gets very busy and is full of Thai girls interested in farang guys. There is even foreigner girls that come and party here. Over all this is probably the best all around night club in Chiang Mai and worth to check out.

Warm Up Cafe (Thai Oriented)
Warm up Cafe in Chiang Mai Is very popular with the locals as it has been around for some time. There is a nice terrace style outdoor area and a larger indoor club room inside with live band and DJ's playing Top 40 style music.
Infinity Club (Thai Oriented)
Infinity club in Chiang Mai is a lively venue popular with Thais. Inside there is a nice and intimate style vibe with cool lighting. DJ's here play dance music and the best current club music. It also hosts some international DJ's every once in a while and get very busy.
All in all Chiang Mai should surely be in your list of cities to visit in Thailand. It has a relaxed vibe to it, but the Chiang mai nightlife has a wide variety of things for you to do and explore.