In this ultimate showdown we will take a closer look at two of Thailand's major cities. Yes, it is Bangkok Vs Pattaya. There can be so much said about these two cities, as they are heavily visited by tourists and travelers every year.
I really enjoy both cities and recommend everyone to visit them both. Both cities are also great for solo travelers. However, I must admit that Bangkok has some advantage over Pattaya in certain categories. And the opposite is true as well; Pattaya can be better than Bangkok depending on your preferences.
In this article the goal is to make a detailed comparison. I want to highlight the pros and cons of each city, and determine which city has an advantage in certain categories. If you are thinking of planning your trip already then:
Start talking to women online, even if you aren't in the country yet. Read my helpful Thai Cupid guide for more, you can easily get to chat with them and build come contacts.
Prices
Many people would like to know the difference in prices between the cities. The short answer is that Bangkok is more expensive than Pattaya. Bangkok is the capital city with the highest population density. It is also the finance center of the whole country. There are plenty of well-known international companies that have their Asian headquarters in Bangkok.
So Generally demand is higher in the market, and prices are higher – for things like restaurants, hotels, bars, girls, drinks. In the popular tourist areas like Sukhumvit Road and the red light districts it can be even more pricey.
The interesting thing about Bangkok is that it can be cheaper once you go outside the tourist areas. So Keep this mind, if you explore you will find great deals on everything.
In Pattaya prices are generally cheaper. Especially the further you are from Walking Street and Beach Road areas. Pattaya is more of a beach town than a major business city. And although many people visit that city each year, it is still not as developed as Bangkok. Prices are cheaper than Bangkok for most things.
The only area where Pattaya is the same as Bangkok are the go go bars in walking street. They have the same bar fine price as Bangkok, and maybe even more at times. Pattaya wins the first round.
Pattaya: +1
Girls
A great thing about both cities is the number of girls and the quality. Pattaya has thousands of women all over the place – in a relatively small area. From beer bar girls to online girls, there is a huge quantity of open-minded women and it is very easy to find a nice Thai woman to keep you company.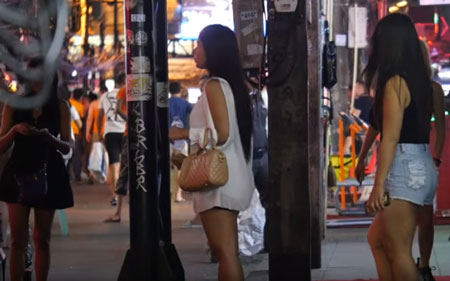 The thing about Pattaya is that there are not as many "normal' girls – not like there are with Bangkok girls. Remember, Bangkok is not just a tourist destination, it is a huge metropolitan city.
Bangkok is probably better for you If you wish to meet more normal girls. Bangkok has plenty of girls in the malls, offices, subways, and restaurants and night clubs. Bangkok also has a higher population of girls. So naturally this also means that there are usually hotter girls in Bangkok.
This is of course subjective, because both cities have very hot girls. But due to the big city vibe of Bangkok, you will find a higher average of good-looking chicks – in the sex industry and normal situations.
Bangkok also has a huge online dating and freelancer scene. Finding freelancer type girls in Pattaya and Bangkok can be done by knowing how to use the Thai Friendly app. Pattaya also has lots of girls online. This one is a very hard comparison as both cities have amazing girls. But I must pick Bangkok here.
Bangkok: +1
Beer Bars
There are literally thousands of beer bars all over the place in Pattaya. Everything is in your face. The whole city is almost one big red light district. But it really caters to all types of travelers like couples and families, young men and women. But it still has a great nightlife scene.
There are so many places you can discover. No place in Thailand can compare to Pattaya in terms of beer bars.
Bangkok also has a few beer bars, but they are mostly freelancer types bars. These bars are basically "normal" bars, but many freelancer girls come there looking for foreign men or customers. Pattaya is the winner here.
Pattaya +1
Go Go Bars
Both Pattaya and Bangkok have excellent go go bars. In Bangkok they are all within the three red light districs. In Pattaya they are mostly in Walking Street, and Soi LK Metro.
There are also a few scattered around. Both cities have very hot girls working in the go go bars. In this round it is a tie.
Pattaya +1
Bangkok +1
Massage Shops
We have another close contest here. Bangkok has excellent happy ending massage shops scattered almost all over the foreigner areas, and around the red light districts.
There is also the well known Phrom Phong massage area more popular with Japanese men. In Pattaya there are too many to count. There are massage shops almost everywhere you walk. Both cities win here.
Pattaya +1
Bangkok + 1
Soapy Massage Parlors
Although Pattaya has some good soapy massage parlors, Bangkok simply has more. Bangkok also has some very high-end soapy massage parlors that have absolutely beautiful models working in them. One of Bangkok's strong points is the soapy massage parlors, so Pattaya can't keep up here.
Bangkok +1
Ease of Getting Around (Transportation)
Pattaya has the "baht bus", also known as the Songteow. It is a pick-up truck like vehicle with seating in the back. It can pick up riders going along the same destination. They are all over the place in Pattaya, along popular routes.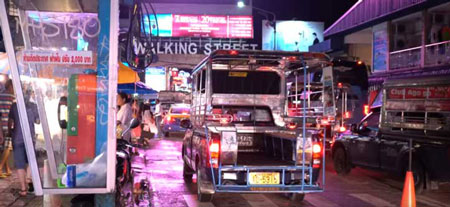 There are also hundreds or maybe thousands of motorbike taxis available to get you around reasonably good prices. Due to Pattaya being smaller, and with less traffic than Bangkok, it is easier to get around. Many times you can walk to your destination.
Bangkok has the Subway and BTS Skytrain system. It also has tons of taxis all over, including motorbike taxis. The one major problem with Bangkok is the traffic. It can get so busy at times that you can get to your destination faster by walking. Another point about Bangkok is the size of the city. Sometimes where you want to go is not that close by. Both cities have good cheap transportation options. So in this round it is a tie.
Pattaya +1
Bangkok +1
Restaurants and Dining
Bangkok is world-famous for its dining and restaurants. There are so many different types of food to choose from its ridiculous. And most of the things seem to taste amazing! The Thai food here is off the charts.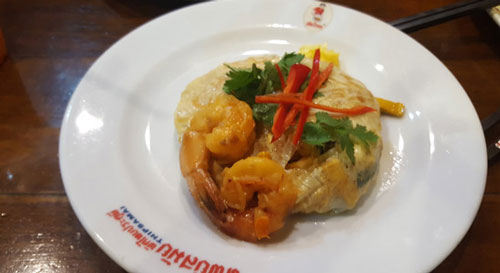 The international food is great as well. I have eaten the best sushi of my life in Bangkok. They even have some amazing American style restaurants serving top of the line Hamburger, Steak, and so much more. The food in Bangkok is simply awesome.
Pattaya also has great food options, and you will never get tired of eating there. There are awesome seafood restaurants, and many European and British style pubs, serving good food. But Pattaya still can't beat Bangkok in this category. Bangkok just has too many options.
Bangkok +1
Hotels
Both cities have an abundance of Hotels. This cause amazingly low hotel prices when there are less tourists around in the low season. You can find some quality hotels for great prices in both cities. Bangkok has more overall hotels due to the size, but both cities are equal in this round.
Bangkok +1
Pattaya +1
Read more: Girl Friendly Hotels in Pattaya (2020 Update)
My Final Thoughs About Bangkok Vs Pattaya
Bangkok is simply an amazingly fun city. You will never get bored of it. The downsides are that it is not a cheap city.
Another point is that there really isn't much things to do during the day. It's not like Pattaya where you can go to the beach, or go to Soi 6 and hang out. Usually it is so hot and so much traffic that you end up just chilling out at a bar or in the mall.
Even though I like Bangkok so much, I still prefer Pattaya just a little more. This is just a personal thing. I like the beach town vibe better than the big city vibe. Pattaya has a slower pace to life which I appreciate more. This is a very hard comparison as both cities are great, and they both have advantages over one another. So lets see the final score of Bangkok vs Pattaya:
Bangkok 7
Pattaya 6
Read More: