Have you ever thought about marrying a Thai woman? I know I have. I also know many other guys who have thought of that, or that currently have a Thai wife.
There could me many reasons one would want to marry a Thai lady.
But I have heard the phrase "don't marry a Thai woman" a few times while having a beer with a foreigner in a bar. So things are not always what they seem. Keep in mind, women sometimes act different once they know you are committed to them in a marriage.
A women who is engaged to you might not behave the same way after getting married. And this is exactly what I have heard from many men who had this experience.
Maybe one is attracted to that type of looks. Thai woman can be very charming. They also have a certain sex appeal to them that can be highly attractive.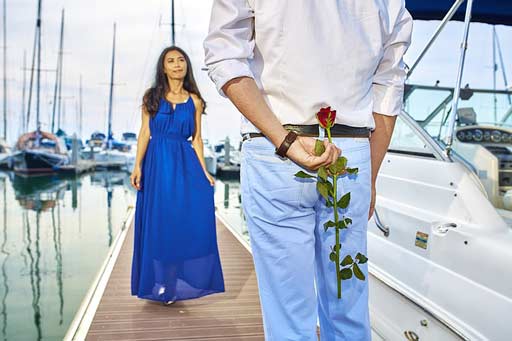 Thai women know how to be a woman and to how to keep a man happy. But of course, like many things in life, there can also be some drawbacks to marrying a Thai woman.
Thai Wife Problems
As I was saying, there can be some issues that may come up in the marriage.
Here are some examples of the problems some foreigners face with their Thai wife:
Location – agreeing on which country to live
Language – Can you learn Thai? Will she learn your language ?
Money – You might need to support her family too.
Culture/Upbringing – Can you come to agreement on value systems and beliefs?
To be honest, these are not the worst things. Sometimes you will hear of some horror stories from some of the expats who ended up marrying one.
Lets take a closer look at this topic and will give some insights and tips when it comes to marrying a Thai woman.
But first I will give a quick rundown of how to marry a Thai girl.
Steps For Marrying a Thai Woman for Foreigners
I will give you a basic idea of what it will take to legally get married to a Thai woman:
Step 1. Go to your country's embassy to get an Affirmation of Freedom to marry. This is a certified statement that says you are free to get married, as you don't have a current marriage with any other woman.
Step 2. Translate the Affirmation of Freedom document and your passport to Thai language. The documents will get a certification stamp after being translated. This prepares them for the next step to get Authenticated by Thai Consular Affairs.
Step 3. Get the documents Authenticated by Thai Consular Affairs.
Step 4. Complete the final process of registering the marriage with your new Thai wife at the Amphur Office. Some people like to do this before the actual marriage ceremony, and others prefer after. This is the final step, and you will be officially married to your Thai wife.
Are You Contemplating Marrying a Thai Woman?
I know first hand that many foreigners who end up traveling here end up meeting a Thai woman that they really like.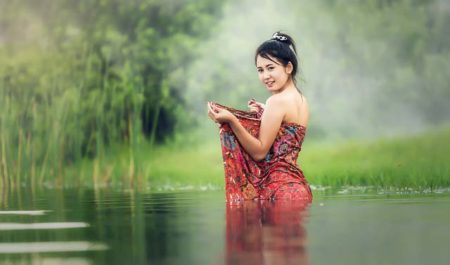 Thailand is very popular with foreign men due to its red light districts. Many men who come here on holiday get a first glimpse of the culture and the Thai women.
Also, many foreigners meet girls from the online dating web sites. This is actually a very popular method now to meet Thai girls for a serious relationship or just for casual fun. Read my online guide for full info on that.
Another common point is that many men who come here on holiday are fed up with the personalities of a western woman. I can't even count how many times I have spoken to an expat who came specifically to Thailand to escape that whole western vibe and wanting to find a Thai girl in hopes of marrying her.
Thai Woman Personality Traits
One thing I have noticed very clearly is the difference between a western woman and a Thai woman. A Thai woman is more family oriented. She has a inherited love to take care of the husband and household. This is not to say that all of them are like this. But the majority of Thai women I have met have had this quality.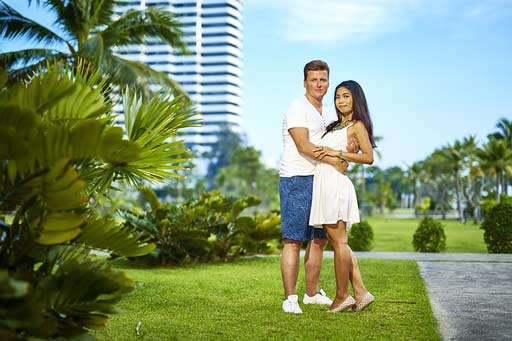 When you ask a Thai woman if she can cook, she will most likely tell you yes and that she enjoys cooking for her family. She will even ask you to try her food one day. They get excited for being a woman. For being nurturing. They really have dreams of marrying a foreigner. It is not always about money. They are fascinated by the western culture. This has not always been the case with my experience of western women.
Sure, there are some women that like to be home-makers, but the majority of them prefer not to do the traditional things anymore.
Many western women told me they prefer NOT to cook, or they can't cook at all. Some of them even said that they don't like to be in a kitchen.
To be honest many guys don't think of marrying that type of woman anymore. I remember that all my Thai girlfriends always cleaned our room and did the laundry. Without even me asking.
The point here is not to put western women down. It is just simple (yet truthful) examples of how Thai women of traditional cultures understands gender roles better and how to keep a man happy.
What a Thai Woman Expects From A Man
Things are bit different in Thailand. Here the man is expected to pay a dowry before marriage. This is to be given to the woman's family. The dowry can be given in the forms of:
cash
gold
Buying the family land or a house
This is very common in eastern cultures. It is somewhat of a "incentive" you must pay to the family – in order to marry their daughter.
Keep in mind, that although a Thai woman will understand her role in the relationship, she also expects certain character traits in a man.
If you posses these character traits she will really love you and be loyal. The traits she looks for in a man, is leadership, strength, and financial support. He is to take care of the woman. Both financially and physically in Thailand. Consider these things before you consider marrying a thai woman.
The Pros and Cons of Marrying a Thai Woman
As with everything there are negatives and positives to the choices we make, especially when we are actually consider marrying a Thai woman Yes there should be some points to consider if you plan on marrying a Thai woman.

This is to give you a general idea, of course it does not represent all the women. We are speaking of the majority of here. Here are some pros and cons of getting a Thai wife. Pros
They can be very nurturing and sweet. They actually enjoy taking care of a man.
A Thai woman is usually very good in bed. They enjoy sex, and they try to be a great lover to you.
In my experience, they are very clean people. Personal hygiene and cleanliness is very important to them.
Thai women are submissive. They allow the man to make the important decisions without interfering. They trust the man.
Cons
They can be a hot tempered and extremely jealous if they sense you are not being faithful.
You can't really depend on them financially. All the financial support will usually be on your shoulders.
Once you marry a Thai lady, you also will usually also have to give some financial support to her family (parents) if need be. This is common in eastern cultures. The husband of the daughter assumes some responsibility for the family.
Quite a few Thai women have previous experience in the sex industry in Thailand. They may have worked in a beer bar, go go bar, massage shop, etc. And sometimes they are not honest about their past. They are very good at hiding their past (and present) if they want to.
And those cons are also some of the reasons why i never married a Thai girl yet.
Is It Worth It?
As you can see by now, it really depends on what you look for when you think of marrying someone.
Is it worth marrying a Thai woman?
I think it can be a great thing if you choose the girl wisely. Some guys do not make logical decisions. It ends up ruining their lives.
Remember, many women need and require financial support. That doesn't mean they only want to marry you for financial reasons. It is a natural thing in this culture.
Take some time to know the girl before making any serious decisions. I have noticed that time can answer many questions for people.
Pay attention to the way she treats you around others. How does she act in public. Look at her reactions towards people.
Many guys have heard of Thai marriage horror stories. There are so many ways you can see ones character.
If you want to see if she is really after money, then pay attention to how she reacts when the topic of money comes up. If you look at the subtle things it can give you clues about the person before marrying them.
This is Your Journey
Finally, everyone has a different journey and story. Don't let others experiences of failure or success determine yours. Just cause something happened to someone else, doesn't mean that it will happen to you — good and bad.
Don't just listen to people that tell you don't marry a Thai woman. Lead your own life. Only make decisions that you can live with, and own up to it, especially if you are thinking of marrying a Thai woman.