Seems like many people think of traveling to Thailand alone these days. Solo travel in Thailand can be great fun. And naturally people have some inquiries and thoughts on how to do this.
In this article I will give some insights about this topic in order to help the single traveler planning on taking a trip to Thailand. You can see for yourself the different aspects of traveling alone.
Thailand for single guys can be great fun. And many other bloggers tend to agree:
Thailand might be one of the best solo vacations for guys (source)
This is especially true for males who want to plan a nice solo vacation and to break free from their everyday lives.
Solo travel in Thailand can be a great experience, here is a few reasons why traveling to Thailand alone can be fun:
Good hotels at great prices.
Infrastructure is pretty good.
Generally very safe.
Nice weather (but sometimes too humid).
Beautiful scenery and beaches.
Exotic and enchanting culture.
Great food.
Amazing nightlife, and friendly women
Now let me also tell you some of the bad things about Thailand recently:
Service and attitudes have declined.
There can be slight undertones of resentment towards foreigners aka "farangs".
Prices not as cheap as before, especially in touristy areas.
Yes, Thailand has some "bad" points. But the good points easily outweigh the bad points. It is good to become aware of these things as a solo traveler in Thailand.
It is also good to see how Thailand compares to other countries in the area, read the article Thailand Vs Cambodia to get an idea of the comparison.
Is Thailand Safe for Solo Travelers?
One of the questions people have asked me about here is, "is it safe to travel to Thailand alone"?
So let me answer this the best I can (in relation to solo travel in Thailand).
Yes it is quite safe to travel here alone, especially for men. Generally speaking, Thailand is one of the safest countries in South East Asia, and maybe even the world. Thai people are not really violent. If you leave them alone and not disrespect them they will not try to start anything with you.
If you get too drunk and rude, or are looking for problems, then of course you can run into problems. But from my many years of experience, Thai people are respectful.
And please understand, Thailand is a major tourist hot spot. Just think how many rude and obnoxious tourists the local Thais have seen over the years. In my opinion, they are very tolerant people. Just keep in mind, whenever you travel to a foreign country you should respect the culture and local people. Especially if you are thinking of coming to Thailand alone.
The reason why foreigners get into problems here is usually preventable. If you stay smart, keep to yourself and not bother anyone, you will surely be safe.
Is Thailand safe for single female travelers?
Yes it is generally safe for solo female travelers. I have met many single girls that came here alone on holiday. If you keep your head up and be a smart traveler it can be very safe.
You might be a little bit more at risk if you are a solo female, but that might be the case anywhere else too. So if you are a female reader and wondering how safe is Thailand for female tourists please don't worry. From my knowledge Thailand would be safe for women travelling by themselves.
Traveling to Thailand Alone Must Do
Thailand has many things for you to see as a solo traveler, but here are some thing that I think you must try when traveling to Thailand alone:
The street food. Make sure you eat some of the authentic Thai food on display in the markets and the streets. The food is tasty and cheap.
Just make sure that the food looks fresh and that the vendor is well-known. If the vendor has many local customers it will be a great sign.
The Buddhist temples.
There are so many beautiful Buddhist temples to see. Every city in Thailand will have them.
If you really want to experience the culture it would be great to give these temples a visit. There is also the Grand Palace which is great to see.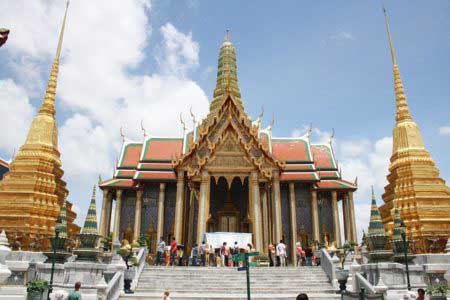 The red led light districts. If you want the thrill of experiencing some of the best nightlife in the world, then of course I highly recommend this. Thailand is world-famous for its sexy nightlife and bars. It would be a shame if you come to Thailand and don't experience it. Bangkok and Pattaya are perfect for this.
The Full moon parties. Check out the parties on the island of Koh Phangan. It is located in the south of Thailand. Every month during the full moon they have a party on the beach. It is world-famous and guaranteed to be a night you will remember forever. Tourists come there from all over the world. You will find many solo travelers there. It is great if you are traveling alone as you can meet tons of people and make new friends.
Shopping in the markets. Thailand has amazing markets and bazaars. You can find some great things at low prices. Check out the many night markets. Take your time, go for a stroll and see what you can find. Many of the night markets also have street food stalls for very good prices. It is a great experience. This can be a good reference for your first time Thailand itinerary.
Traveling to Thailand Alone Tips
If you are planning for solo travel in Thailand, then there are a few things that you should consider and prepare for. This will make your traveling experience much smoother and enjoyable. It will also help prevent a few issues if they ever do arise.
Money
I recommend to bring money in a few different ways if you are coming here as a solo traveler. Bring some Cash, debit and credit cards. As a back up you could also send yourself money through Western Union before leaving your home country.
This is for in case of emergency. If you ever lose your cash or your cards stop working while you are in Thailand, you always have that back up. You can always cancel the transaction once you get back home.
Passport
Of course you will need your passport or travel document. I also recommend to email yourself a scanned photocopy of your passport and ID if you are traveling to Thailand alone. Again this is just for back up and emergency. If you lose your passport or need a photocopy you can simply go to an internet café (or hotel reception) and print a copy.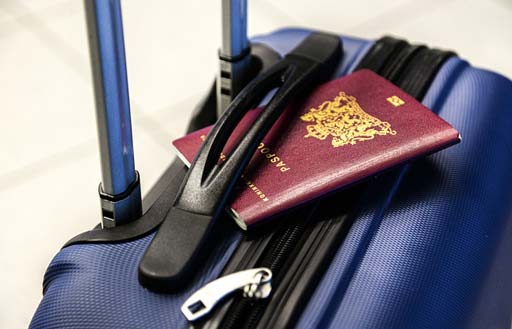 Remember, as a solo traveler you need to look out for yourself and be responsible for anything that make come up.
Attitude
If you are coming to Thailand alone then remember that you are responsible for your own plans and fun. If you come with a good attitude, open to meeting people and new experiences it will be a great trip. Smile, enjoy yourself and you will see people will react better to you.
When you travel alone it makes you more social because you learn to interact with others, and are open to new things. Come with the right attitude and mindset. Respect the local culture and rules, and you will do great. If you are traveling to Thailand alone then come with an open mind.
Locations
If it is your very first solo travel in Thailand then I recommend to stick to the more popular tourist areas. Experience the well-known places. And if you are going to Bangkok alone then I highly recommend to read my city guides for Bangkok, Pattaya, Patong, and Chiang Mai first to give you a feel for the vibe of Thailand.
Then after you get more experience you could venture out into the more remote locations. Keep it simple the first time traveling to Thailand alone.
Online Dating Account
These accounts will give you access to tons of girls to meet in Thailand. If you are traveling to Thailand alone, then you will want to be able to meet girls easily. And although Thailand has a great nightlife with plenty of bars, it is still great to be able to set up dates with even more girls.
There are two dating accounts that I use while in traveling in Thailand. Read my Thai Friendly Guide and my Thai Cupid Guide for excellent information about the online scene in Thailand. Both of these apps are great.
Another great resource is my low season and high season guides. If you are deciding on when to come to Thailand then I high recommend for you to read that. It can give you insights on the vibe of the different times of the year. Read my article on the best time to visit Thailand. In there I give a full analysis on when it would be best to travel for most people.
Conclusion on Solo Travel in Thailand
As a solo traveler you just need to plan it all properly so that you can enjoy your trip as best possible. A great way to do that is to read up on the articles and guides so that you get familiar with all aspects of Thailand. The great thing is that travelling alone can be very fun. You learn to control your own plans, and become responsible for your own experience. This is actually can make you more confident. After a while you will actually prefer it. And finally, if you are planning solo travel in Thailand, then I recommend that you do it. It can be an amazing experience. Don't get intimidated about traveling to Thailand alone. If you think positive and read about the things I recommend you will have an awesome experience.