The Pad Thai dish is one of the most popular and tastiest foods you can eat in Thailand. If you are fan of pad thai, there is an excellent place in Bangkok you should try. My girlfriend in Bangkok told me about this place a couple years ago. It is known to be the tastiest pad thai in the world. When I first heard this I could not really believe it. That is a big statement to make. I mean, there are so many places that have pad thai. How can this place claim they have the tastiest in all of the world. And why is it world famous. I had to try it.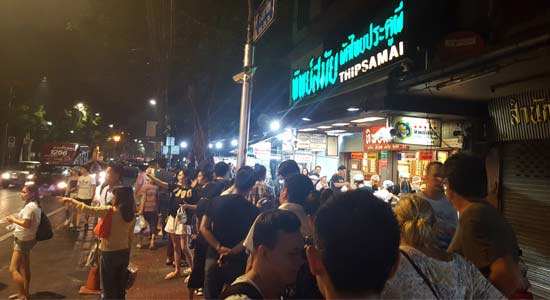 The place is not that far from Nana plaza. I remember the first time I took a taxi to the location. As soon as I stepped out of the taxi and found the place I was very surprised. There was a long line up of people waiting to eat this pad thai. That is when I realized that maybe it is all true. Maybe it is the best pad thai I will eat.
After about a 1 hour I finally got in the restaurant. I ordered their famous dish, which is pad thai with shrimp, wrapped in egg. They also have a fresh orange juice drink which they make daily. It tastes so fresh and amazing.Let me be honest with you. It really is probably the best pad thai I had.
It is so tasty and fresh. And they use a few special ingredients like shrimp head oil, and deep sea prawns in the recipe. It has a exquisite taste. The price is reasonable too. They have various Pad Thai dishes starting from around 70 Baht. Go check it out whenever you are in Bangkok. The name of the restaurant is Thipsamai Pad Thai. Let me know if you think it is the best pad that you have ever eaten.
Read More: