I get asked a lot about the effects of the low season in Thailand. Thailand is a wonderful place and the truth is that it can be great to travel during any season.
All year around you will still see periods of sunshine, however certain months average more sunshine then others. It just depends on your own preferences and to understand the benefits of traveling at various times of the year.
During the low season the rainfall does average more than normal, however that doesn't mean that you will be forced to stay inside your hotel room.
You will also notice that it tends to rain (or remain cloudy) much more in the south and near the islands such as Phuket and Koh Samui.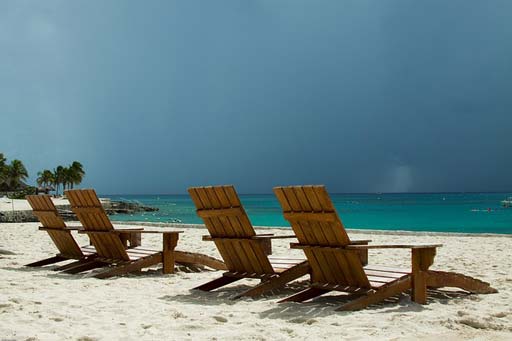 This is not the season to be in Thailand if you want to go island hopping.
It would be much better to to Thailand during the high season were it will barely rain, and will have minimal humidity.
Most of the time it is overcast. But one of the annoying things is that it can rain at random times (often).
Take a look at the following picture, where it rained during our seafood dinner by the pier.
When is the Low Season in Thailand?
The rainy season in Thailand starts around May and goes until end of October, while the peak season starts around end of October until end of April.
This does not mean that it will rain all day. Usually the rain comes fast then finishes. You rarely get days where it will rain all day. The rain comes in spurts and is sporadic most of the time.
What I do notice about that time is that it is cloudy more often and you get less direct sunlight. You will experience many days like this:
Thailand's climate is actually very predictable and you know what to expect. Here are the top 3 reasons why traveling during the rainy season can be a great thing:
1. Better Hotel Prices
The very first time I came to Thailand was during the busy time, around end of November… but the next time I came was in July. I could not believe how cheap some of the hotels where, it was incredible.
That is when I realized some of the benefits to travel during the rainy months. Especially if you wait and book until you are here, and see which hotels offer amazing discounts.
Once you find a deal then book right away. Hotels that were $60-$70 during high season were available for under $40. Hotels that were around $40-50$ were available for around $25 a night.
This was in Bangkok, Pattaya and Patong, and of course maybe even cheaper in the other cities in Thailand. So keep in mind the things like hotels and hostels are very cheap during the slower period. It can be a smart choice to travel then.
Better Deals On Low Season Airfares to Thailand
If you are like me and enjoy finding good deals on hotels, then you can save some of money.
Depending on exactly when you book your flight, it is possible to book more days for the same amount of money.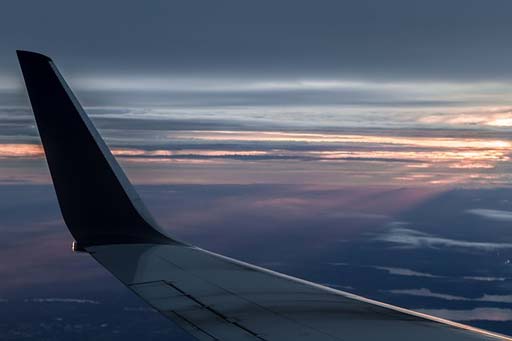 2. Less Crowds During the Low Season
Although Thailand is a major tourist destination, it is still very noticeable that there are less crowds in the rainy season.
Sure, there are still tourists around, but no where near the amount you would see during the busy months. For example, the hotel pool won't be as busy, more loungers will be available.
Usually the majority of Thailand's beaches will have less people too. This was the beach in Phuket in the low season: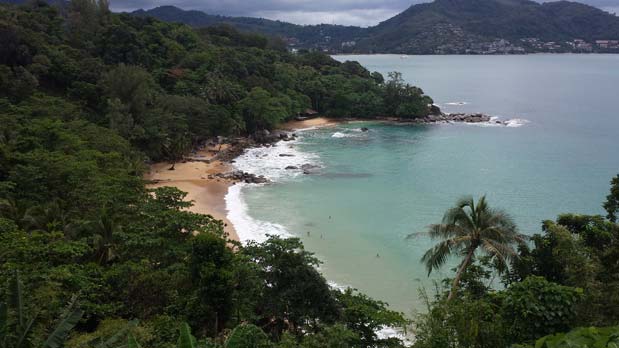 Popular bars and restaurants in Thailand's well-known cities won't be full on a weekend.
For some travelers who are planning a relaxing holiday in Thailand this might be preferred as those travelers will want to have a vacation with less crowds.
They are looking for more of a relaxed vibe.
If that sounds like you then this is the time you should be coming for your holiday.
However, the opposite of that is true for a place like Nana Plaza, a Bangkok red light district. Nana Plaza can get hectic during the busy months.
3. Less Tourist Around
This can be a good thing or a bad thing depending on your preference.
But if you like it when there are less people around then you will love it during that time of the year.
And if you frequent the bars then you will see that there are much less customers around.
It it is true from my own experience that during the rainy months there can be better times in the bars.
There are simply less customers around.
It drives prices down somewhat. In some beer bars in Thailand you might be one of the handful of customers.
The service can be much better, and with more hostesses around. You could have 3 or 4 bar hostesses around you, just talking and having fun while only buying one of them a Lady Drink.
Better Prices in Thailand during low season. It is also not uncommon for beer bars to have better drink specials during the that season. Especially in the areas that don't get too many tourist visitors to begin with.
Try The Low Season and See How You Like It
In conclusion I want to say that both times of the year have benefits and you should try both to see for yourself. You will like the low season if you don't mind the extra rain periods and the increased humidity.
If you are a budget-oriented traveler than you will most likely pick the off season to travel to Thailand.
On the other hand you will love the high season if you want the best possible weather, and don't mind the increase in the number of tourists. Just know that prices will be the highest during the peak season.
I will do an article in the near future on the top 3 reasons why you should travel during the peak times of the year. That should give some insight as to why it can also be a great time to travel then.
The bottom line is don't let the low season in Thailand stop you from coming here. Give it a try and see how you like it.
Take a look at more articles on Thailand