Smooci is an interesting app that has caught the attention of many guys, including myself. The reason being is that it has really created a very simple way to book a companion.
After reading this Smooci review you will get to see exactly what it is and why it can be so useful — especially while you are in Bangkok since it is one of the main cities it is so popular in. These are the cities it now operates in:
Bangkok (Pattaya coming soon)
Singapore
Manila
Hong Kong is coming next along with other cities going forward. And remember, you could arrange a girl in Bangkok and go anywhere in Thailand with her. Just communicate exactly what you want and come to an agreement. You will always find what you are looking for.
The reason why Smooci is so powerful is because it has revolutionized the way guys can book companions in Bangkok. Back in the day if you wanted to book one you would have to call in or email to the booking agency directly. And the problem was that the client never had full control over the entire process and was limited to that specific agency.
This was not an efficient way to have access to the most companions. Smooci has changed this.
With Smooci you have access to so many more girls from different agencies all within the app. You have full control and have the ability to see exactly who the girl is, what she offers, and even track her on route to your place.
The same way that Uber made it easy to order a ride in the taxi industry, Smooci has done this in the escort industry. Now you can imagine how helpful this can be for so many guys.
Here are the 3 things I really like about Smooci:
1. Smooci Is Very Discreet
Using Smooci is probably the most private way to find girls. You don't even need to leave your room. You can easily view and browse from the comfort of your phone.
The app makes sure that the privacy of users and the girls are respected. It is all confidential.
This is a huge bonus for the guys who prefer not to go into bars, or meet freelancers in the streets.
It is even more discreet than finding girls on the dating apps — since that usually also requires you to meet the girl somewhere or to set up a date.
If privacy is one of your concerns than you really should be checking out Smooci.
2. Smooci Can Save You Time
If you are the type of guy that doesn't want to waste time in the bars (and money) then you will find Smooci extremely useful.
And even though dating sites can save you time finding girls, it does still take some time and effort from you. You still need to chat with them, set up dates, etc. And that is fun too, there is a time and place for that. But with Smooci you don't even need to do any of that stuff.
So Smooci is also great for those times when you want to put very little effort in and save time.
3. Smooci's User Friendly Design
As you may have seen, apps and platforms have become very user-friendly these days. People want simple (yet powerful) apps. And Smooci is one these modern apps that has kept this recent standard. Using the platform is very easy and straight-forward.
I will show you how it all works below, or you can get a head start and check it out yourself at the Smooci Website.
How To Book Girls Using Smooci
1)You first select the city you want:
2)Then you select if you want a lady or ladyboy:
3)How long do you want a companion for?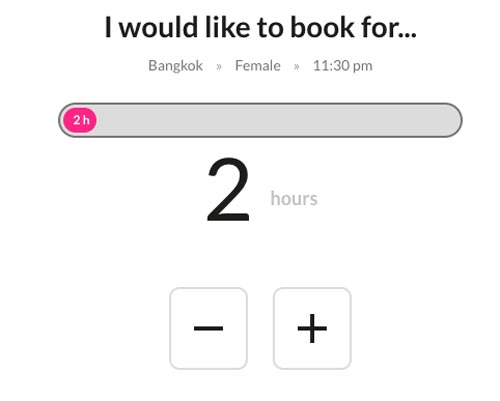 4)Select the appointment time
Now here is the next great part, you can easily set your filters and preferences of what you want.  After this you will see the available women that you can choose from.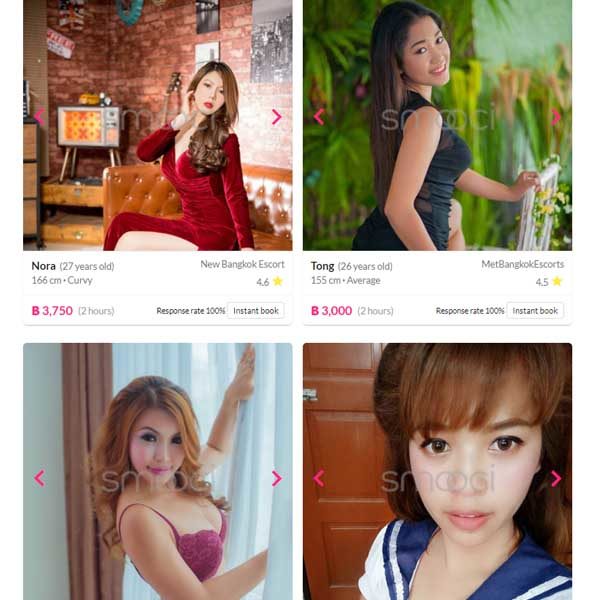 Using Smooci is free, and you can use the platform to book your companion, but for the advanced features it will require to sign up to a premium membership.
The benefits of the premium membership are really good, you get the following:
Location Tracking: You get to see exactly where your date is and how long it will take to reach you.
User Reviews: You get full access to user reviews of the girls to get a better idea of what exactly to expect.
24 Hour Advanced Bookings: You can easily set up an appointment in 24 hours advanced. With the free standard membership you can only book 4 hours in advance. This is helpful for the guys need that extra time to set up the date (Business travelers, short time tourists). Premium members also have the option for the 1 hour booking option, which is great for guys who want a short-time experience.
The premium membership is really worth it and offers a better experience for most guys.
Smooci Review: My Final Thoughts
My first thoughts about Smooci have been very positive.
I really think that this is the future of industry. Smooci has created a fun and safe way to book your companion. The selection of the girls is also something that should be mentioned.
My searches brought up some very attractive ladies that I would love to spend some time with. I also like the fact that it is so easy to use and discreet.
I know we all love to go the bars and streets sometimes and find what we want. But sometimes you really just want to relax without having to do any socializing and searching.
I also noticed that Smooci can actually cost you less than going to the bars. The reason is sometimes you waste time and money on drinks and bar fines to actually find a woman that you really like. Usually with Smooci the whole process is much less complicated.
Smooci can still improve on its locations however. As said before, it is only available in select cities across SouthEast Asia for now. It will be even better as it adds more popular locations to its list of cities. In this Smooci review I have given you an idea of what to expect with this amazing platform.
Take a look for yourself and see how you like it. Check out Smooci Here